ORCHID EVENTS
Annual Orchid Events in the Central Coast Area & Southern California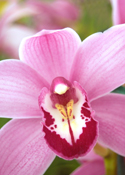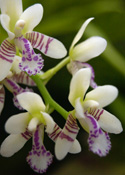 Santa Barbara Orchid Estate Summer Open House
Friday, July 12 - Sunday, July 14, 2013
Enjoy exotic beauties of summer - including Brazilian Laelias, Vandas, Rossioglossums, Cattleyas, Stanhopeas, Encyclias - and Summer and Fall blooming varieties of Cymbidiums in spike. Meet guest author Milton Carpenter, hybridizer, past-president of the American Orchid Society and author of the newly published book, From the Hand of God to the Miracle of Orchids. Learn from hands on mounting and potting demonstrations. Refreshments will be served.
Santa Barbara Orchid Estate
1250 Orchid Drive, Santa Barbara

Cal-Orchid Summer Hummer
Friday, July 12 - Sunday, July 14, 2013
Special annual Summer Sale featuring three special guests from overseas: Manolo Arias, owner of Peruflora; Satomi Kasahara, co­owner of Seed Engei nursery, Japan; and Masayoshi Takahashi, owner of the prestigeous Japanese nursery, Tokyo Orchid Nursery. There will be many fun things to do. Learn about orchids and find some special bargains. Refreshments will be served.
Cal-Orchid
1251 Orchid Drive, Santa Barbara

November Open House at Cal-Orchid & Santa Barbara Orchid Estate
November 2013
Cal-Orchid
This is an exciting time for orchid growers as the promise of the new flowering season is in the air. Cymbidiums are pushing their spikes, so there is no longer any guesswork as to whether or not your selected plant will bloom. This is a perfect time to come up to Santa Barbara as the air is clear and bright, the fog has left the coast, and orchid fever is HOT. We offer many specials on our collection of Cattleyas and species. And don't forget our world class Lycaste seedlings; they are all rooted in and ready to show off all show season.
Cal-Orchid
1251 Orchid Drive, Santa Barbara
Santa Barbara Orchid Estate
Enjoy Santa Barbara Orchid Estate's Annual Fall open house.
Santa Barbara Orchid Estate
1250 Orchid Drive, Santa Barbara
Orchid Society of Santa Barbara Annual Fall Show
November 2013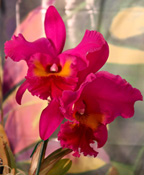 Santa Barbara Museum of Natural History
2559 Puesta del Sol Road, Santa Barbara

Many flowering orchid plants are on display from members, other orchid societies and commercial growers. The show includes both Society judging and AOS judging of awarded plants of special merit. Several vendors offer plants for sale and growing supplies. The Society also sells plants to raise funds for activities and for administrative needs. Lectures and demonstrations are offered throughout the weekend show. Museum admission includes admission to the Orchid Show.
For more information visit: www.orchidsb.net
Santa Barbara International Orchid Show
Friday, March 14 - Sunday, March 16, 2014
Earl Warren Showgrounds, Santa Barbara

One of the oldest, largest and most prestigious orchid shows in the nation, the Santa Barbara International Orchid Show draws top local, regional and international growers, orchid societies, amateur botanists and floral arrangers. Each presents his most unique and stunning orchid plants in lush garden showcases designed for public viewing.

The Santa Barbara International Orchid Show attracts vendors from around the world,including South America, Southeast Asia, Australia and the United States. A special sales area features thousands of blooming orchid plants, supplies, artwork, photography, corsages and merchandise.

Concurrently, the Santa Barbara Art Association offers a juried fine art show and sale in the main Exhibit Hall featuring the works of noted California artists. The showcase includes artworks focusing on orchids in a variety of mediums – watercolors, oils, pastels, acrylics, mixed media, photography, sculpture, jewelry, glass, ceramics and metal art.


Throughout the show weekend, orchid experts offer free, informal demonstrations on orchid culture. The Orchid Show runs 9 a.m. to 5 p.m. daily on Friday, Saturday and Sunday. Individual tickets can be purchased at the show box office starting at 8:30 a.m. during the show weekend. General admission is $12. Seniors and students pay $10. Children 12 and under, accompanied by an adult, are free.
For more information visit: www.sborchidshow.com